Subscrip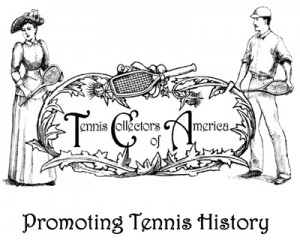 tion to "The Journal of the Tennis Collectors of America" which is published at least three time per year.

Networking with hundreds of other collectors who have an interest in American tennis history and memoribilia, including names and addresses of these individuals.

Obtain information on regional and national meetings to further American tennis collecting, history, and the sport.

Network with another major tennis collecting group (Tennis Collectors Society).
Access to 'Members Only' pages of the TCA website
For questions, contact:
Becky Desmond
34 7 Manor Ave
Downingtown, PA 19335
bd315@aol.com
To join: Send a check for $ 30.00 (dues for one year) made out to Tennis Collectors of America to Aldo Romeo at the mailing address above. Please fill out and include the TCA Membership Application with your payment.
We are pleased to report that the membership has grown rapidly and we continue to receive more memberships each week. If you have not yet joined the Tennis Collectors of America, please feel free to download this Adobe Version of the TCA Membership Application and do so today. Either click the link to open the form for printing, on right click and choose "Save Target As" to save to your computer.