2017 TCA Annual Meeting
SAVE the DATE
July 27-29
Philadelphia Area
More details to follow

Please note: This website has been redesigned as of June 2016 – ALL members must register again for complete access – your old registration will not work (This has NOTHING to due with dues, just full access to the new site). ONLY TCA members are allowed to register – guests can use the site, but have limited access. If you want full access, please see Membership Application link. CURRENT TCA members – Please register using the "Log-in Menu". Thanks – admin.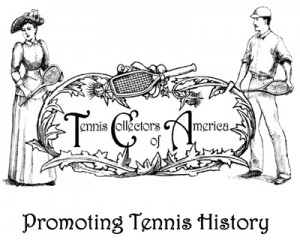 Welcome to the Home Page of Tennis Collectors of America
The TCA was organized in the fall of 2003 by Ken Benner, Jeanne Cherry, Randy Crow, Mike Eden, Greg Wilt and Priscilla Wilt. An additional 54 members contributed time or finances to help found the TCA. A nine person Board of Directors with term limits was elected from the Founding members to lead the organization. The purpose of the TCA is to promote tennis collecting and the history of tennis through an ongoing exchange among members utilizing a TCA website, published media and meetings. The TCA has 501(c)(3) non-profit corporation status.